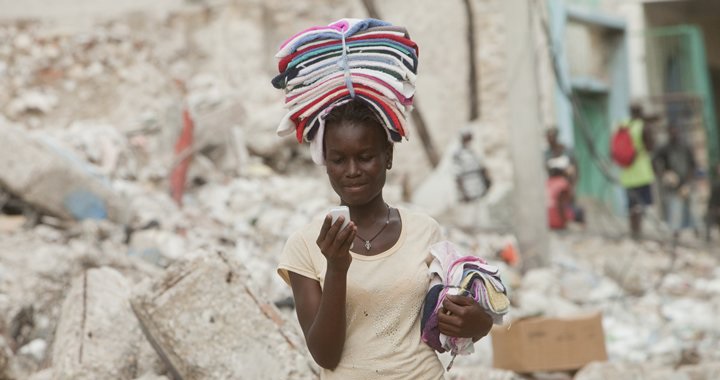 Photo: Gates Foundation
Big Data Can Make The World a Better Place
Thanks to the debate about surveillance and privacy violations, Big Data has received adverse publicity, but Big Data can save lives because it enables a fast and effective reaction to catastrophes.
Share
The article was published in Jyllands-Posten 14 November 2013.
Other categories
During the tragic earthquake in Haiti in 2010 which claimed more than 200,000 lives and displaced millions of people from their homes, there was a breakthrough in disaster management.
Even poor Haitian people own a cheap mobile phone and that means they leave digital footprints during a disaster. Haiti's largest mobile operator, Digicel, decided to make all data about their mobile clients available to two researchers from Columbia University and the Swedish Karolinska Institute and by doing so the escape of two million people from Haiti's capital to the countryside during the earthquake could be mapped out. Shortly after the earthquake a cholera epidemic broke out, and by using Digicel's data the researchers could quickly locate people from the cholera zone through mobile towers. Thereby the information quickly reached the UN and other relief organisations and the epidemic was immediately contained.
Companies collect a vast amount of data about their consumers that they analyse to spot business tendencies. Their data is usually protected carefully behind the company's firewall as opposed to Open Data that is provided to the public.
Governments collect data to develop education, health care and employment.
Big Data is best known from revealing headlines in the newspapers about secret services that are too curious and conduct unnecessary surveillance of citizens and politicians. The debate about the right to protect private information is completely legitimate.
As always, technological development is light years ahead of legislation, and Big Data has gained reputation that overshadows its inherent potential for god – to save lives during disasters and create development in the most vulnerable corners of the world.
Big Data is roughly speaking collected in two ways, through words and behaviour, and the quantity of data is growing by 40 per cent each year. This is in part due to the fact that more people display their private life through phone shops, search engines, home banking and web shops, but also to the fact that more and more people own a mobile phone.
Today there are 6.8 million mobile phones in the world, 77% of them in developing countries (UN figures). This means that 5.2 billion mobile phones in developing countries are leaving digital traces that can be analysed, anonymised and converted into valid data, Big Data. 31% of the citizens in developing countries have access to the internet.
Poor people in developing countries represent the majority of the 100 million people that are affected by disasters every year. As the example from Haiti shows, catastrophe operations and development work where companies make data available to humanitarian movements can be extremely efficient. The UN initiative, Big Data for Development, launches research projects where companies'Big Data is made available to researchers who study disaster management through social media and write development programmes.
During hurricane Irene in 2011, which that raged in Puerto Rico, the Dominican Republic, Haiti and New York, authorities discovered that tweets about the hurricane were moving faster than the hurricane itself. Thus it was possible to evacuate people before disaster struck. Here the citizens are active sensors in the middle of a storm, since they represent an ad hoc network of valid data that strengthens the disaster readiness; it is called crowd sourcing.
In Kenya, already recognised as being technologically progressive in 2007 with the launch of the mobile bank M-PESA, scientists have charted the spread of malaria by analysing people's travel patterns, for example through anonymised emails provided by Yahoo.
Big Data for Development can also reflect a growing public concern about the financial crisis, unemployment or food prices, like in Indonesia, where a team of scientists proved a connection between increased rice prices and changes in words and tone on Twitter. In Brazil, Google searches for symptoms of the tropical disease, dengue fever, provided an estimate of how many people were infected during an epidemic. In Haiti, online behaviour is an early and strong indicator of where an epidemic starts and how it spreads.
Public data collected by governments and international organisations through household surveys and Big Data are much more comprehensive and open than ever before. The World Bank, UNDP and the African Development Bank provide data about climate change, food safety, infrastructure and equal rights for researchers, governments and the general public through the Open Data Platform site. Open Data is the first step towards good governance on the basis of collected documentation. That is why data should be publicly available.
The challenges are obvious. Data can be so sensitive that there is a constant risk of political interference. If data are to be openly available they must be anonymised. The purpose has to be transparent and legislation is needed to protect the individual. For the same reason it should be governments that take the lead by releasing their data and devising legislation concerning the collection and use of data. And in fact they are already doing so, also in several of those countries where the need for the protection of rights is greatest.
Open Government Partnership (OGP) is a platform for governments that cooperate to become more open, trustworthy and inclusive to their citizens. In 2011, eight countries were members of OGP; in 2013, 62 countries are members, among these Denmark. Democratisation of Big Data will benefit everyone: first and foremost the people who get saved before disaster strikes, governments that can think smarter and act faster, but also to a great extent peoples of the world.
Companies should have a natural interest in providing Big Data for researchers, analysts, international organisations and public authorities. First of all because it is a CSR (Corporate Social Responsibility) strategy that yields a profit. The company that makes its data available shows social responsibility, helping to ensure social and economic development for their customers.
Related news