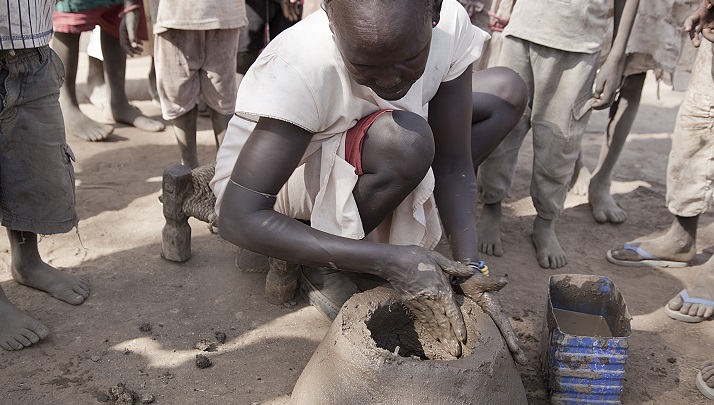 Foto: Danish Refugee Council
Cooking up the best solution
Fuel efficient stoves produced by and distributed to refugee women in South Sudan save lifes, reduce conflicts and exhaustion of natural resources.
Share
Other categories
Fatna Baekir knows exactly how much straw, cow dung, dirt and water is needed to mix the perfect clay. She is the first refugee woman in the Yusuf Batil camp to take on a production of fuel-efficient stoves in corporation with the protection and camp management team from the Danish Refugee Council. She is also a trainer of other refugee women, who have started their own production.
"The traditional stoves use more fuel, because they are too open," says Fatna Baekir, who has been part of developing the prototype of the fuel efficiency stove that are now being produced and distributed in the camp. She finds it to be a simple task to the women in the camp, why they need to use a new type of stove.
"I tell the women that the firewood will stay longer, if you use these stoves – and you can cook faster," she said, while working on the cow dung clay by her feet, forming a stove the exact same size as the others without measuring, just doing what she has done so many times before.
"I did a lot of different stoves to begin with. They were all good for different things, but one was too big, one was best for bread, and then we finally decided on this one because it is best for most things," Fatna Baekir says.
Fatna Baekir is finishing up the stove she has worked on, and leaves it with the rest of the days production to dry in the South Sudanese heat. She makes five a day and sells them off to DRC that has the responsibility to distribute the stoves produced by Fatna Baekir and the 33 women she has trained to make the very efficient stoves.
"There is a general lack of resources in this area – everything is in demand; firewood, building materials and water," says Camilla Kragelund, Emergency Team Leader, DRC South Sudan, when explaining why it is necessary to change the way the refugee women do their cooking.
"We have to find solutions like this to limit the tension between the host community and the refugees. Further there is a high risk for the women that are forced to leave the camps to collect. So reducing the need for wood also reduces sexual and gender based violence."
DRC has been working in South Sudan since 2005. DRC and its mine action unit, DDG, provide emergency assistance, food security and livelihoods, mine action, armed violence reduction and community driven development. DRC holds the responsibility for three refugee camps housing more than 83.000 Sudanese refugees and is as co-coordinator to UNHCR, supporting the coordination of the refugee response in South Sudan.
Related news