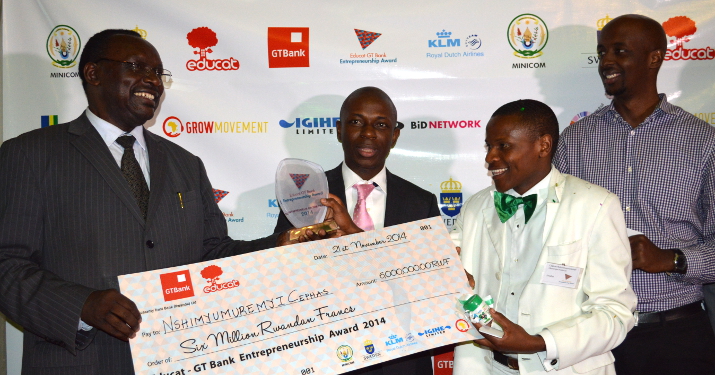 Entrepreneurs are superstars in Rwanda
Entrepreneurship and innovation are high on the agenda among the large youth generation in Rwanda. The Danish organisation Educat is supporting young entrepreneurs to make their dreams into sustainable businesses.
Share
Educat's entrepreneurship competition 'The Educat-GTBank Entrepreneurship Award' is among the biggest in Rwanda and takes place every year in November during Global Entrepreneurship Week
12 finalists from all provinces of Rwanda competed for the title as Rwanda's next entrepreneurial superstar after being selected among 500 applicants
This year's winner, Cephas Nshimiyumuremyi from Uburanga Products, won a cash prize of 50,000 Danish Kroner, an international flight ticket to a destination of own choice, free online advertisement in Rwanda's biggest online media platform and access to Educat's Business Accelerator Program.
For more information about Educat and their work in Rwanda, visit educat.dk
Other categories
Confetti flew about, and the crowd was cheering as Cephas Nshimiyumuremyi and his business Uburanga Products, producing natural beauty products from local herbs and ingredients, won the title as Rwanda's next Entrepreneurial Superstar and took home praise, publicity and a substantial financial prize. To celebrate entrepreneurs as superstars is not too far off in Rwanda.
Entrepreneurship and innovation is on everyone's agenda in the small central African country, which is trying to build an image as 'The Singapore of Africa' and hence the centre of entrepreneurship, innovation and ICT. Educat, a Danish organisation based in the capitol Kigali, is working to strengthen young entrepreneurs through tailor-made programs, and for the third year in a row through the biggest entrepreneurship competition in the country, The Educat-GTBank Entrepreneurship Award.
Entrepreneurship in the curriculum
In Rwanda, three out of four of the country's population of 11 million is below the age of 35, and that causes big challenges in terms of youth unemployment. Along with the challenges comes a great need for entrepreneurship and job creation and expressions such as 'be a job creator, not a job seeker' is widely known from as early as primiary school level and is a high priority for the government.
The entrepreneurship environment in Rwanda is often highlighted as role model to other African countries, and Rwanda was recently ranked third among African countries on The World Bank Group's Ease of Doing Business Index. That is something to be proud of in the small country that is still mostly known for its dark history.
Businesses for growth
The Danish organisation Educat has worked in Rwanda for the past six years, strengthening the entrepreneurship environment and transforming good ideas into sustainable businesses with international investment potentials. Every year in November, Educat in partnership with the Government of Rwanda, the private sector and the Swedish Embassy, organises a big entrepreneurship competition to celebrate young entrepreneurs.
"There is no standard recipe to make a young business succeed. That is why we are working one-on-one with each of the entrepreneurs, and we can see the impact of our work. It creates jobs in all layers of society and induces poverty reduction. That is also why we make a big effort to celebrate these young entrepreneurs as superstars once every year", says Andreas Nørlem Christensen, who founded Educat six years ago.
Access to finance
Educat is working with entrepreneurs within a variety of sectors: From fashion designers and artists, mechanics and hairdressers to food processing and manufacturing of beauty products and school materials. All of them share a passion to grow their businesses and create profit, and all of them share the challenges of accessing finance. Bank loans are off limits to most entrepreneurs, so Educat is partnering up with banks, capital funds and international investors to secure access to finance and growth for the small businesses. Cephas Nshimiyumuremyi won the equivalent of 50,000 Danish Kroner and he is planning to spend the money to expand his business and reach bigger target groups and thus employ more people to his factory in a rural area an hour out of Kigali.
The lights are off, the confetti cleaned up from this year's big entrepreneurship event, and now the real work of Cephas and Educat starts: Utilizing every penny of the cash prize to secure growth in one of Rwanda's up and coming businesses.