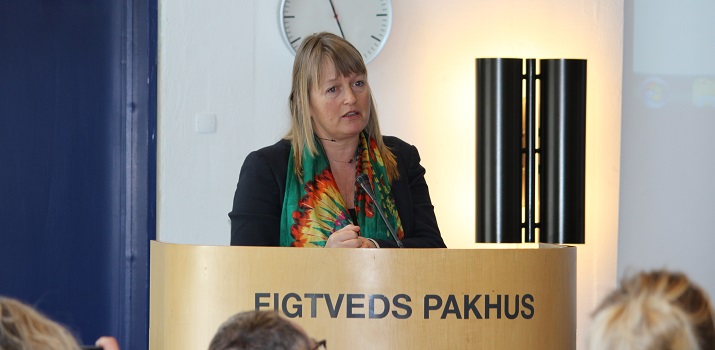 Photo: Medine Duvarci / VBN
Denmark Must Set Ambitious Goals After 2015
When the Director of the UN Millennium Campaign, Corinne Woods, paid a visit to Denmark last Wednesday, she brought with her a challenge. Denmark must lead the effort to create ambitious development goals after 2015.
Share
Other categories
In the year 2000, world leaders agreed to work together for a better world. Since then, the eight Millennium Development Goals have provided a framework for the work of eradicating global poverty and want. This work is now drawing to a close, and the task of defining new goals for the next few years has already started.
'When the world leaders have to decide in 2015 what goals we shall pursue in the future, they have a choice. They can be ambitious and focus on the most important goals, or they can choose not to. It is absolutely pivotal to create a public debate showing that the population is very serious about the fight against global poverty and want',said Corinne Woods from the rostrum at the kick-off event for the World's Best News, where NGOs had turned up in strength to start this year's campaign.
Corinne Woods stressed that Denmark has an important role to play in the forthcoming work. In 2015, the Danish UN Representative, Ib Petersen, in cooperation with his colleague from Papua New Guinea, will lead the negotiations about the formulation of new development goals that will be ongoing until 2030. With Denmark heading the negotiations, the Danish population and the Danish development organisations have a unique opportunity to set the agenda.
'We have come far with the Millennium Development Goals, and we should celebrate this success, but if we have to take it further we need to speed up the process and raise the level of ambition. Danish civil society can play a vital part in this process, but we need to start the debate now', emphasised Corinne Woods.
One way that the Danes can make their voice heard is by participating in the project called MyWorld, where people from all around the world are asked to vote on the areas to which they attach the highest priority. Almost one and a half million people have already participated in the voting, but Corinne Woods hopes to reach a much higher number before the important negotiations start.
'MyWorld gives people in the farthest-flung corners of the world a voice to express what is important to them in their lives. What is important for a person in Uganda is not necessarily the same for a person in Denmark'.
Related news