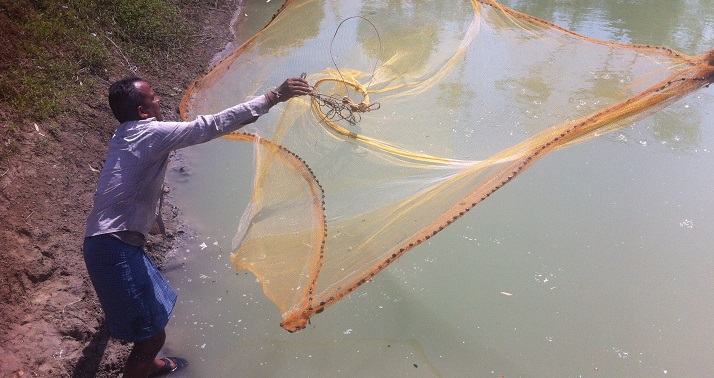 Camilla Lund Mikkelsen, Aktion Børnehjælp
Fish-farmer leaves poverty behind
Sometimes, natural disasters lead to opportunities for new life. Indian Jannagath caught such an opportunity with a fishing net.
Share
A new life after the cyclone
This short story is about just one person out of about 6500 people affected by cyclones whom Aktion Børnehjælp has helped not just to return to their land, but also to ensure and improve their situation now and in their future.
Other categories
Jannagath Jena casts his orange net with a strong and sure hand, paying no mind to the camera filming him. He has scattered fish feed on the surface to attract the fish that are now dancing under the surface like small black spots in an underwater stage show.
The fish farmer and entrepreneur has a lanky and sinewy appearance, and gives off a serious impression as he squints against the sun. Just like his modest plot of land, it doesn't seem like he feels any need to boast of his success.
It's not immediately apparent, but it has only been one and a half year since Jannagath Jena lost everything. Now, thanks to a bit of funding, he has managed to not only get back on his feet, but to seize a chance to triple his annual income.
From destruction a new beginning
In the autumn of 2013, the 'super cyclone' Phailin struck the east coast of India. One of the hardest hit areas was Orissa, the home of Jannagath Jena. The cyclone destroyed houses, and flooded fields, driving thousands of people from their homes. Before the devastating cyclone, Jannagath Jena owned a small fishing pond, but that was destroyed by the cyclone like so many other things.
When he was offered help to re-start his fish farming, he took it as a chance to create a better life for himself and his sons. Jannagath Jena received training in aquaculture from a local fish expert, who saw a potential in the hardworking man. The expert therefore encouraged him to take out a loan, to lease a plot of land. Jena went ahead with the idea, and dug a new fish pond, and at the same time he planted tomatoes and pumpkins for extra income.
Previously, he would earn 15,000 rupees (€215) a year, but he says that he now expects to make 43,000 – nearly three times more. And that is only for the first year. He expects to be able to increase his income even more in the coming years.
Big ambitions and dreams
By selling the fish while they are still small, he has been able to sell them to hatcheries, and thereby generate some capital to be invested in his business. But he is planning to let the next batch of fish grow big enough to sell on the market, so that they may fetch a good price.
Orange pumpkins and red tomatoes give life to the colour palette of the dry, brown soil. The vegetables can be sold on the local market, and Jannagath Jena also plans to start processing the pumpkins to make chutney, in order to increase his income. Nothing will be wasted; the pumpkin seeds can be roasted, and the leftovers can be used for fish feed.
The family is the motivation
Jena's joy of an extra income is primarily the joy of being able to give to the family. He has two sons that are still studying, and the money helps pay for their education.
His wife died some years ago from cancer, and part of the money also go to pay off the loan that he took for her treatment.
Even thought Jannagath Jena is only 48 years old, he has no plans to re-marry, as he prefers to spend his money on his family. And in any case, he is not sure if a stepmother would care for his children and grandchildren as she would for her own.
A small push for a big leap
As we drove from the fish farm, I was left with a distinct feeling that if I return here in five years time, Jena will not be leasing his plot of land any longer – I am sure he will own it himself, and even more land besides. Certainly he will continue to improve and expand his business in his own thoughtful and hard working way.
Related news