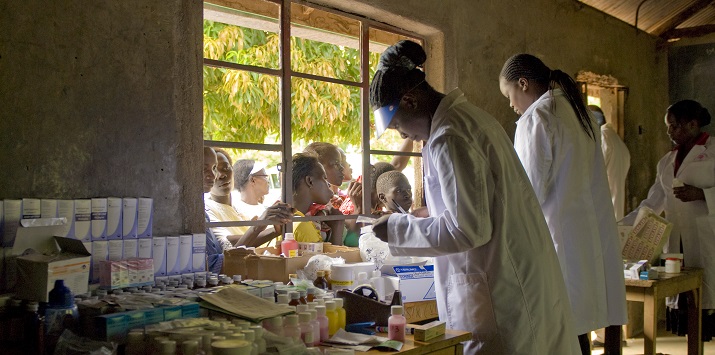 US Army Africa
Malaria Vaccine On Its Way
Each year hundreds of millions of people are infected with malaria in the third world. Now the first vaccine is on its way.
Share
Read the WHO report on Malaria:
Other categories
In the third world, mosquito bites can be fatal. Malaria is transmitted to humans through the mosquito species anopheles, and the disease is one of the most deadly in the developing countries. But in recent years there has been progress in this area. From 2000 to 2012, malaria cases were reduced by 29%, while the number of deaths was reduced by 45%. This is partly due to the distribution of mosquito nets and improved methods of treatment.
But in spite of the huge progress made, malaria is still widespread. WHO estimates that 207 million people were infected with the disease in 2012 alone, and that 627,000 people died as a result. Most of these deaths occur in Africa south of Sahara, where especially children under the age of five are at risk.
Scientists approaching a vaccine
Recently the fight against malaria is facing new challenges. Malaria parasites have developed resistance to the commonly-used medicine, artemisinin, in four Asian countries: Cambodia, Myanmar, Thailand and Vietnam. Scientists fear that this resistance will spread to exposed regions of Africa, where Nigeria and the Central African Republic alone account for 40% of malaria-related deaths in the world.
'The emergence of resistance threatens worldwide malaria control and treatment since there is no alternative to this drug if its efficacy decreases further and the resistance spreads outside the region',writes the Global Fund to Fight AIDS, Tuberculosis and Malaria, according to IRIN News. Therefore scientists around the world are working on developing new weapons to fight malaria. Today, the disease can be prevented with mosquito nets and can be treated with medicine, but a vaccine has not yet been found. This may change in the near future. For example, the pharmaceutical company, GlaxoSmithKline (GSK), is testing a new vaccine in seven African countries, and preliminary results indicate that nine out of ten vaccinated children can be saved from malaria. The results are encouraging and raise the hope of accelerating the process of eradicating malaria.
The CEO of GSK, Sir Andrew Witty, recently promised in an interview with British ITV that the new vaccine will cheaply priced, so it will be available for the world's poorest.
Related news