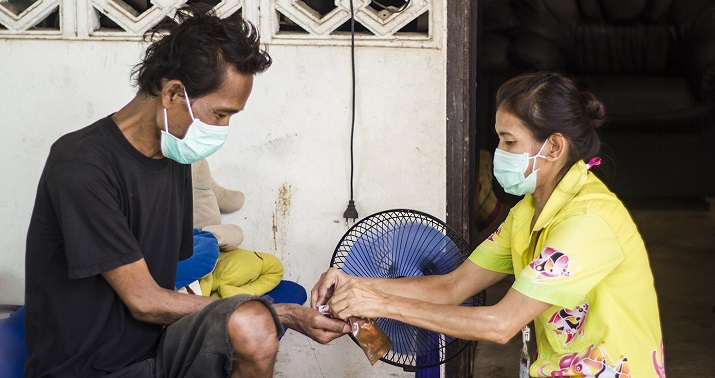 USAID Asia / CC BY
Progress In The Fight Against Tuberculosis
The collaboration between 27 countries to fight tuberculosis in the farthest-flung corners of the world is a great success.
Share
Other categories
For a long time, tuberculosis has been among the most deadly infectious diseases on the planet. For this reason, the fight against the disease is a matter of high priority for the UN and health organisations around the world, and this has lead to huge progress in this field. Since 1995, a goal-oriented effort to fight tuberculosis has saved 22 million globally, so the UN's ambition to curb the spread of tuberculosis and turn the tide is heading in the right direction. The considerable progress made is due to active efforts to diagnose tuberculosis as early as possible, and subsequently provide the right treatment.
'Earlier and faster diagnosis of all forms of tuberculosis is vital. It improves the chances of people getting the right treatment and being cured, and it helps stop the spread of drug-resistant disease', says Dr. Margaret Chan, WHO Director-General.
However the fight against tuberculosis is far from over. Every year, 9 million people are infected with tuberculosis, and 3 million of them never get in contact with healthcare personnel. WHO is focusing on this problem, and marked World Tuberculosis Day on 24 March with the theme 'Reach the 3 million'.
Promising results
One particular concern is how to reach the half million people who are infected every year with multidrug-resistant tuberculosis (MDR-TB), and therefore become immune to the most common treatments. In some developing countries with limited capacity, it is difficult to diagnose MDR-TB, so there is an increased risk of it spreading.
27 countries have united to solve this problem through the project EXPAND-TB (Expanding Access to New Diagnostics for TB).
'The MDR-TB story is being transformed by a fertile mix of collaborators, including those working on access to diagnosis. Increased capacity and reduced prices mean more patients can be served, and global health risks would be diminished',says Philippe Meunier, the French Government's Ambassador in the fight against HIV/AIDS and communicable diseases.
So far the project has shown promising results. Globally, 30% of the detected cases of MDR-TB have been identified through the XPAND-TB project. The most prominent success has been in India. Here, 90% of the country's registered cases of MDR-TB have been discovered through the project.
Related news