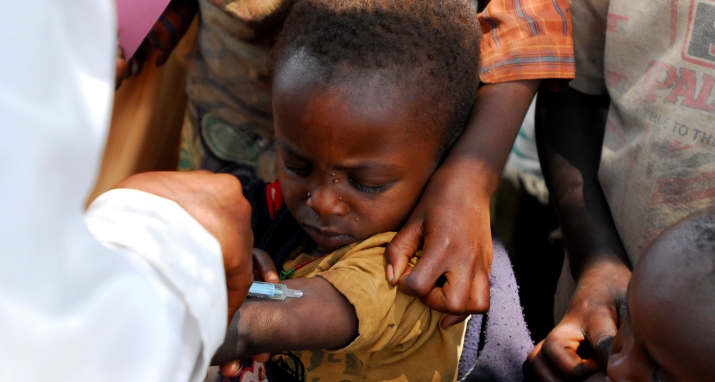 UNICEF Ethiopia/2010/Getachew
Significantly More People Survive Measles
Since 2000, 13.8 million deaths due to measles have been avoided. This is revealed in new figures from WHO. Thus the fight against measles has achieved historically good results. But other regions are still fighting against the disease.
Share
Read more:
Other categories
A tiny prick can eliminate the risk of a child catching measles, which can be fatal in the world's poorest countries. Measles is highly contagious and it is only due to a global effort with vaccination and immunisation that the fight against measles is close to being won. WHO estimates that since 2000 the number of deaths caused by measles has decreased by 78% from 562,000 in 2000 to 122,00 in 2012. In addition, the focused effort to fight the disease has prevented 13.8 million deaths in the same period of time.
Towards eradication
For years, measles has been among the most widespread causes of child mortality on a worldwide scale. Around 1980, before it was common to vaccinate against this infectious disease, as many as 2.6 million people died every year from measles. This number has dropped drastically, due to a global effort to provide vaccination and immunisation. In 2000 alone, 1 billion children have been vaccinated against measles thanks to the global partnership, The Measles and Rubella Initiative, which is a cooperation between various agencies ,including the American Red Cross, WHO and UNICEF. In spite of the good results, the disease is far from being eradicated. In many countries measles is still a widespread disease, with DR Congo, India, Indonesia and Ukraine being the countries with the most registered cases of measles. In DR Congo alone, where the situation is most severe, 72,029 cases of measles were reported in 2012. In other regions, good progress is being made. In 2002, North and South America managed to eradicate measles on the American continent, and the situation is still stable. To reach the goal on other continents, an increased effort is required involving routine immunisation, vaccination campaigns and increased investment in health. Vaccination against measles is an important step towards reaching the Millennium Development Goal of reducing mortality rates among children under five by two thirds before 2015.
Related news