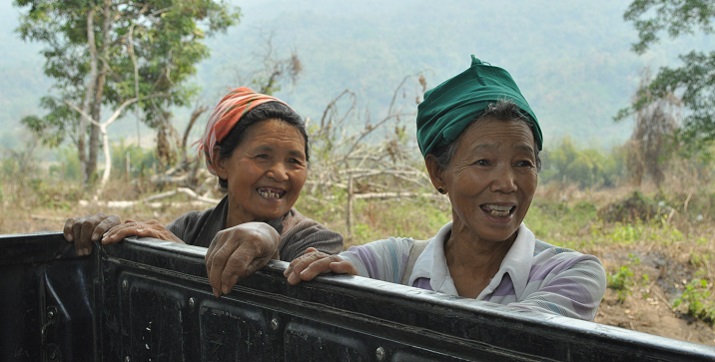 Foto: Allyson Neville-Morgan / CC BY
Small grants make a big difference for Myanmar IDPs
Tailor-made business grants enable IDPs in Myanmar's Rakhine State to get back on their feet and resume livelihood activities.
Share
DRC in Myanmar
Read more about DRC's work in Myanmar here.
Other categories
DRC's recently launched livelihood programme will provide support to both Buddhist and Muslim communities affected by last year's sectarian violence.
This week [red. August 8, 2013] DRC delivered the first round of small-business grants to Buddhist IDPs displaced by the June and October 2012 sectarian violence in Myanmar's Rakhine State. The violence led to the displacement of more than 140,000 people, both Muslims and Buddhists, across Rakhine State. The evident need for life-saving assistance continues. But as the IDP situation evolves from an emergency context to a more protracted displacement scenario, livelihood support will be a key element in providing economic opportunities for IDPs and other conflict-affected communities and decrease dependency on humanitarian aid.
"Many IDPs who used to be shopkeepers, craftsmen, trishaw drivers and petty traders lost all their assets in the violence. But they have not lost their skills – and with modest financial support they are able to re-start their businesses, provide for their families and spearhead early recovery", says DRC Project Coordinator Andreas Geertsen.
The small-business grants are awarded on a competitive basis providing equal opportunity to all IDPs, but supporting only the businesses with the best chance of success. Supported businesses include trishaw taxis, tea shops, small restaurants, and grocery stores – as well as production of snacks, rice noodles, and wooden furniture. A transparent selection process ensures that all applications are assessed according to objective criteria, including motivation, experience, cost-efficiency and quality of the business plan
Buddhist IDP Ma Tin Chay is one of the grant recipients. The 43 year old single mother of 2 children used to prepare and sell fried vegetables for a living. "But during the violence in June last year, my house was burned down and I lost everything" she says. "With this grant I can buy the items to re-start my business and support my family again", Ma Tin Chay adds.
In the coming weeks the business grant programme, funded by the Swedish International Development Cooperation Agency (Sida), will be extended to the Muslim IDP camps, and DRC will continue to provide balanced assistance to both of the conflict-affected communities. The livelihood programme complements DRC's other programmatic areas in Rakhine State, including shelter, WASH, non-food items, protection, camp coordination and camp management (CCCM). DRC has worked in Myanmar since 2009, providing assistance to people affected by conflict and natural disasters.
Related news