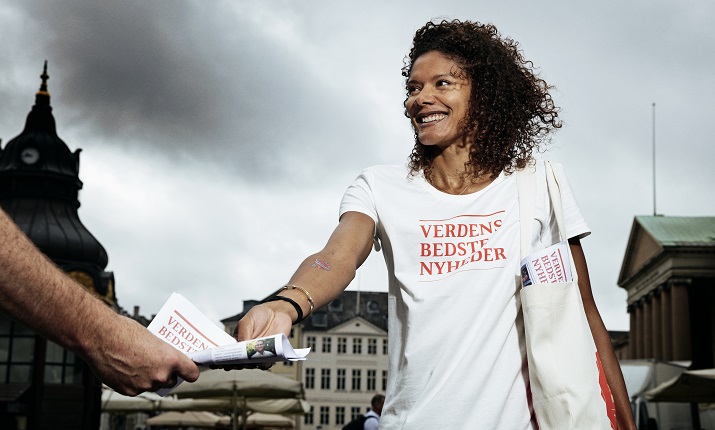 Photo: Ulrik Jantzen
We all have a lot to celebrate this Friday
The world has become a better place, many of us just don't realise it yet. This Friday, World's Best News celebrates that most people of the world now live longer and better lives. Everyone is invited.
Share
"World's Best Morning" – event in numbers
22 Danish politicians have signed up for the event in Denmark, including Foreign Minister Kristian Jensen and Minister of Education Ellen Trane Nørby.
9 foreign embassies will help distribute the World's Best News annual newspaper in Copenhagen.
More than 1,500 volunteers will distribute the newspaper at 140 distribution points throughout the country.
In addition to Denmark, World's Best News will also be distributed in 19 other countries, in 24 languages, as part of the European Year for Development.
To kickstart the event, a morning party will be held at the central square in Copenhagen, next to the City Hall. The party is a cooperation with IBIS, Roskilde Festival and Footwork, and will be a chance to literally celebrate the good news with music and dance – and probably some good photo ops!
On the morning of Friday 11th of September, Danish early risers will wake up to a piece of chocolate and a special edition of World's Best News, as they make their way to work on bicycle lanes and in train stations across the country. This year, the campaign event will be bigger than ever, reaching even more Danes with the annual newspaper of good news about world development issues.
More than half of Danes believe that the world has become worse during the last twenty years. But in fact, humanity in general now lives longer and better than ever before. Great progress has been made in nearly all areas: People live longer on average in nine out of every ten countries, four in five are now able to read and write, and the least developed nations now have a gross national income nearly three times bigger than in 1990.
Fast development
Especially Asia and sub-Saharan Africa have been taking big strides in recent years. In fact, the world's so-called least developed countries are now developing at a rate 4.6 times faster than the most developed nations. This means that the difference between rich and poor countries is set to become smaller, if this trend continues.
"Right now, we see a critical situation in Syria and parts of Africa that calls for a lot of media attention. And it's important that we keep that focus. But at the same time, we should not forget that there are fewer and fewer countries in the world where people need to flee into exile. In the big picture, the world is moving in the right direction. With the right political decisions, we will be able to abolish world hunger and poverty completely within a few years. That is the message that our volunteers will help spread this coming Friday," says Thomas Ravn-Pedersen, editor-in-chief at the World's Best News.
Good news are spreading in Europe
The World's Best News is a Danish information campaign success for six years running, and the concept is now expanding to the rest of Europe. This year, thee yearly newspaper will therefore not only be distributed in Denmark, but in a total of 19 European countries, with editions in 24 languages.
"It's absolutely unique that a Danish public information campaign is spreading internationally in this way. It's fantastic that we have this opportunity to bring nuanced information about the state of the world to countries all the way from Sweden to Slovakia," says Thomas Ravn-Pedersen.
Related news