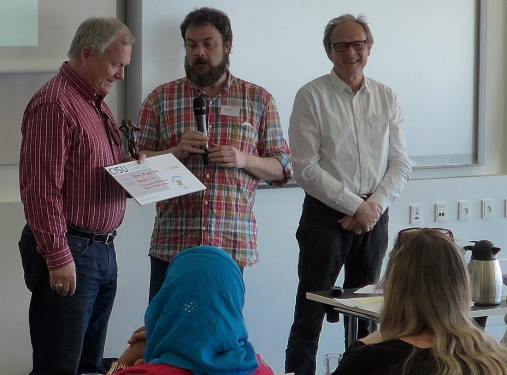 World's Best News Receives CISU Prize
This weekend, the steering committee of the World's Best News in Roskilde were given the initiative award for third-world development by the CISU.

Share
Other categories
It was a bunch of very happy winners who received the initiative award at the annual general meeting in Nyborg of CISU (Civil Society in Development, Ed.). With the award comes a trophy and 10,000 Danish Kroner.
The award is given to a person or organisation that involves people in Denmark in global development work. This year the trophy went to the Roskilde division of World's Best News, in relation to how CISU can 'pay tribute to the local effort that makes "ordinary"people reflect on the state of the earth'.
CISU has awarded the prize since 2009, and in the nomination highlights the Roskilde division as a 'Wide-scale local cooperation across associations that constantly spread the news of the World's Best News'.
The specification states that people of Roskilde and Lejre 'should receive the initiative award because they show how commitment to development work influences and involves a whole community'.
There are major differences in terms of how and how much Danish development networks participate in the World's Best News annual campaign. While some disseminate the message on their website, others contribute with articles and news to MetroXpress (a free Danish newspaper, Ed.) and the campaign website, or hand out small juice cartons and newspapers with good news on the actual campaign day in mid-September.
All endeavours are a part of a joint campaign, through which we thank the population for their contributions during the past year. As well as many great individual efforts, partnerships appear that deeply involve the local community.
According to CISU, the teamwork in Roskilde and Lejre is such an initiative:
'For three years, a small steering committee has initiated, coordinated and organised an annual "Association Day" to emphasise the good news and positive messages from the developing countries. 16 local associations and 12 well-known Roskilde citizens cooperate in spreading the good message. They pull together to show that collaboration works'.
The World's Best News sends its congratulations!
Related news