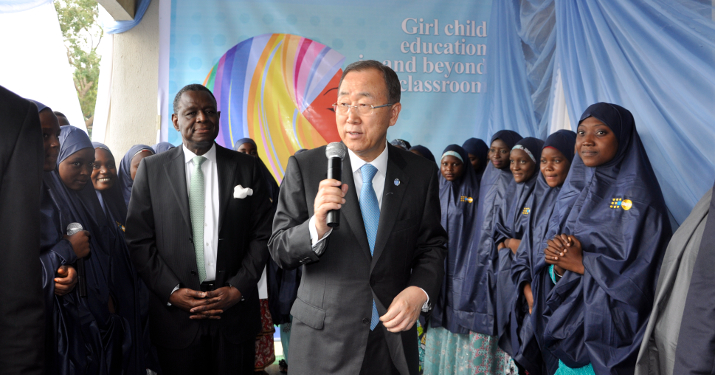 Ban Ki-moon visits school in Nigeria. Photo: UN
Youth is key to ending poverty
The whole world could benefit from the potential of the many young people in developing countries, if we help them access health and education.
Share
Other categories
"I want to make a difference. I'm proud to be a girl". On this note, 15 Nigerian school girls ended their theatrical performance for the UN General Secretary, Ban Ki-moon, and the chief of the UN Population Fund, Dr. Babatunde Osotimehin. Words like those are rare in the northern Kaduna State of Nigeria, where daily life for girls – like in so many other places across the world – is often affected by lack of gender equality, insufficient access to education and health services, child marriages, and teenage pregnancies.
The General Secretary supported the girls' confidence, and assured them that the UN will back them to ensure that "every girl – regardless of age, culture, or background – gets equal access to quality education, and is able to freely express her wish to be a girl, rather than to become a child bride".
Strong youth can benefit us all
The 15 girls in Nigeria are front-runners in a UNFPA-supported programme that educates 400 vulnerable girls about their rights, bodies, and health.
The 'Action for Adolescent Girls" programme is set to be expanded to 131,000 girls in Nigeria alone. The purpose is not just to strengthen the girls themselves, but also to improve local communities, nations, and populations – not least the young. There are 1.8 billion young people between 10 and 24 years of age in the world. That is more than ever before, but the many young people can pull developing countries out of poverty, if we let them. If we give the youth – not least the girls – access to education and health services, including family planning, and invest in job creation, then lessons learned from the 'tiger economies' of Asia show that the energy, creativity, talent, and potential of young people can be a strong driver for wealth and progress.
Falling birth rates due to improved access to modern contraception led to a demographic change in East Asia, which, combined with better access to education and jobs, paved the way to a 'demographical dividend' between 1965 and 1995. This means that there are more people of working age than in retiring age or very young. The result in Asia was impressive economic growth and big gains in the form of increased equity, and the success created an important driver for the global economy and wealth.
Give girls an education
Last year, UNFPA established that 59 developing countries now stand on the threshold of the same demographical shift. The report indicates that especially young women and girls are more likely to gain a foothold in the labour market, and contribute to the well-being of their families, when they are allowed to go to school, plan their families, and uphold their rights.
For this reason, countries going through the demographical shift must work to create access to education and health for all, so that the potential of having more people of working age can be unlocked to create progress. But these countries are also  the ones with the least resources and the biggest challenges. That's why there is a need for international support to employ the talents of the young people. Such support would benefit all nations, not just those that are currently undergoing the demographic change. As world leaders recently signed the new Global Goals, the needs and opportunities of young people were expressed in many of the goals. By setting goals and indicators for youth health – especially their reproductive health –education, development, and employment, we continue to build on the progress that the Millennium Goals helped deliver. In this way, we also give young people – such as the 15 Nigerian girls in Kaduna State – opportunities to make a difference and play a part in changing the world.
Related news