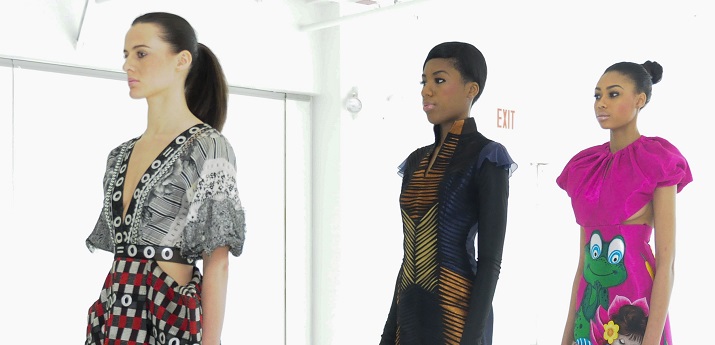 Photo: j-NO / CC BY
Africa is Highest Fashion
Previously, the West has dominated the fashion scene, but a new generation of African designers have been causing a stir in recent years.
Share
Other categories
On a cold winter's day in 2000 I was standing with a group of western models waiting to strut onto the catwalk at one of the many lavish shows at Tokyo Fashion Week.
One after another we entered the catwalk wearing Maasai-inspired outfits dominated by warm colours, pearls and animal print. The Japanese trendsetters and fashion journalists, sitting on the front row to snap up next season's important trends, nodded politely.
The collection was actually not that unique. Many times before, designers have been inspired by the African continent and just as often women's magazines have run a guide like 'How to get this summer's ethnic look'.
The wave started back in 1967 when the world-famous designer Yves Saint Laurent, now deceased, launched his iconic African Collection with dresses made of raffia, shells and wooden pearls. The following year, the Algerian-born designer created headlines with his safari jacket, just as tunics and turbans have appeared in his shows. Since then, Asian and especially Western designers have used tribal patterns end exotic decorations as a theme.
After several decades during which international brands like Gucci, Dolce & Gabbana and Balenciaga have used Africa as an anthropological source of inspiration, a growing group of African fashion designers have recently started single-handedly to rethink the clichés, at the same time putting their continent on the global fashion map.
This development is taking place as the African economy is accelerating with an insistent force that should be the envy of Western countries. From being a poor continent, Africa has undergone an incredible development in recent years. With an average growth of 4.6% per cent from 2000 to 2012, Africa was one of the fastest growing regions in the world, and today the continent contains seven of the fastest growing economies on the planet.
Even though the media and fundraising campaigns still talk about hunger, poverty and catastrophes, economic growth has had a positive influence on millions of citizens in African countries; today, one third of all Africans can call themselves middle class which, according to the African Development Bank, corresponds to around 350 million people.
This new population group with purchasing power has shot up in economic epicentres in big cities like Johannesburg, Lagos, Accra, Dar Es Salaam and Dakar. Large capitals that now all have their own fashion week attracting more and more international attention. Here, new trends are created and born, and the world pays attention.
Of course, you could also make do with African Fashion Week in either New York or London, where thousands of visitors every year since 2009 and 2011 respectively have experienced the latest trends among leading African designers.
As more and more magazines, websites and blogs focusing on African fashion become available, designers are offered new channels through which to reach their target group through, alongside the many fashion weeks. One of the places where you meet the trendsetters in the African fashion industry is the magazine, Arise. This magazine is the world's first high-end magazine with a focus on African fashion, music and art.
The magazine was founded by the Nigerian publisher, Nduka Obaigbena, and has the British fashion journalist, Helen Jennings, at the helm as editor in chief. Arise is sold in more than 25 countries and aims to present a different and positive picture of Africa, and to highlight the many burgeoning talents of the continent.
Arise is responsible for African Fashion Week in both New York and Lagos, and is therefore an important mouthpiece for upcoming designers, models and others striving to gain acceptance in the international fashion world.
While some African designers completely leave out traditional materials, others work intentionally to incorporate their cultural heritage into creations that will be a part of, and rethink, global fashion tendencies. As the Ugandan designer, Gloria Wavamunno put it in an interview with CNN: 'I am in love with my continent right now. My art is African and I am extremely proud of where I come from'.
Common to the many designers that have made it big internationally is that they grew up in different cultures, went to London, Paris or the USA to study, and then returned to their homeland to work on strengthening the African fashion industry on a global level.
Gloria Wavamunno was born in London, as her parents had fled there during the civil war in Uganda, to where they soon returned. Later, the young Ugandan moved back to London where she studied at the American Intercontinental University and took an apprenticeship with the successful Ghanaian designer, Oswald Boating.
Since 2009, she has had her own label in Kampala, and her annual collections have so far attracted international attention.
Gloria Wavamunno's signature is her long, sharp cuts combined with traditional kitenge textiles (an East African material with brightly coloured patterns that women use for everything from skirts to headgear and baby slings).
Africa is not a country, and just as there are obvious differences between French and Italian fashion, and street styles in New York and London, this is also the case in the huge African continent. Nigerian textiles differ from what you wear in Ethiopia, and the materials in Tanzania are not completely comparable to tendencies in South Africa.
For instance, the Ghanaian designer Aisha Obuobi, who is behind the Christie Brown brand, deliberately works with merging innovative and seductive feminine silhouettes with Ghanaian print and colourful kente details (woven fabric made of silk and cotton in graphic patterns originally from the Ashanti Empire in Ghana).
For example, her creations sparkled on Beyoncé's dancers during the world famous pop singer's last world tour. Alicia Keys, a singer who falls within the same category, also created a hype around Christie Brown when she wore one of the label's large textile necklaces in a fashion spread in the American music magazine Vibe, just as Aisha Obuobi's work has been shown in global fashion magazines like Vogue and Harper's Bazar.
The growing fashion industry and the designers that make it big across the African border help tell a new story about Africa that benefits the countries'economies when looking to attract foreign investors. Consequently, cities like Johannesburg have started to support the creative industries financially in order to encourage young artists and designers.
Elsewhere, aspiring young designers are still challenged by a lack of educational opportunities and by more basic things, such as sparse infrastructure and production possibilities. Everything indicates that the progressive development in the African fashion industry will continue to follow the economic boom that has only just begun.
According to World Economic Outlook, within the next five years Africa will be able to call itself world champion in economic growth. Maybe it is even plausible that in the future we will be able to read articles about the latest tendencies in Nigerian versus Namibian fashion, just as we talk about 'European' fashion today.
Related news