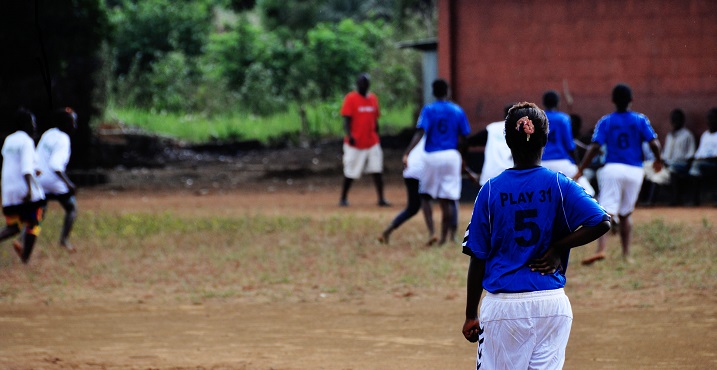 Photo: Play31
Playing With a Ball Teaches Children About Life
In Sierra Leone young girls learn to play football - and at the same time learn about their rights.
Share
Other categories
The four girls clubs run by the Danish organization, Play31, in the Moyamba district of the southern part of Sierra Leone, are based on ball games.
Here the girls meet up and play football with their friends. Sometimes you loose, sometimes you win the trophy, but it is always fun.
When the match is done, the girls are taught about healthcare and birth control, and they learn about basic human rights, like the right to protest if male teachers demand sex for good grades.
Rights on the agenda
Traditionally Sierra Leone is a patriarchal country where women have often been treated as second-rate citizens. This was only aggravated by the civil war that ended in 2002. The women were among other things used as sex slaves and left at home when the men left for war, explains the founder of Play31, Jakob Silas Lund. He continues: 'In Sierra Leone violence against women is a major problem and way too many young girls get pregnant following sexual assaults by older men'.
Thus there is a need to put women's rights on the agenda: 'It can be difficult to measure the actual impact of the sport activities, but we know that more girls have started school in the local areas of the clubs', he says, and points out that there have not been any teenage pregnancies since the start of girls' club in Moyamba.
The UN also goes in for play
Apart from the girls clubs, Play31 organises major football festivals involving 1,000 people 20-30 times a year, where local communities play against each other. In this context, sport becomes a peaceful tool in efforts to break down barriers between cultures and improve social integration.
Play31 are not alone with this philosophy. Because even though sport cannot stand alone in the struggle to reach the Millennium Development Goals, the UN Office for Sport for Development and Peace makes no secret of how sport is a crucial part of a broader approach to development. Sport increases the mental and physical health of children and young people, just as physical activity develops self-confidence and teaches children and adults about tolerance and respect.
The organisation was founded in 2008 and has received several prizes for its work, including the Peace and Sport Award in 2013. Its name is taken from §31 of The United Nations Convention on the Rights of the Child, which states that every child has the right to play.
Related news