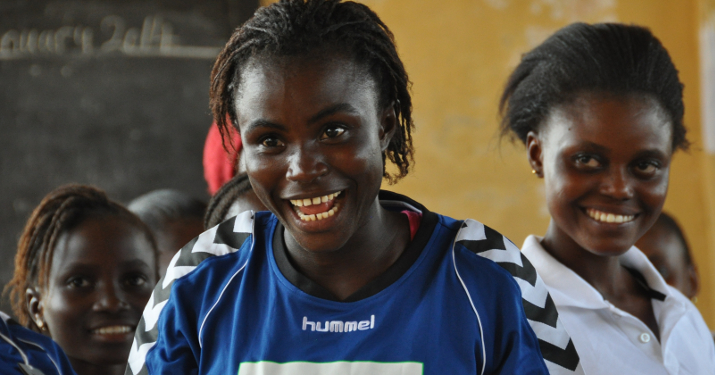 Photo: Play31
Sierra Leone girls fight for their rights by football
A Danish organisation is using the power of football to bring people together in Sierra Leone, helping them reconcile after the civil war and to learn about basic rights.
Share
What is Play31?
Play31 is a Danish NGO founded in 2008.
The name was inspired by article 31 of the UN Convention on the Rights of the Child, which states that all children have the right to play.
Play31 has united more than 60,000 people in Sierra Leone, and educated hundreds of children and adults in their rights and peaceful conflict resolution.
The organisation also arranges girls' clubs in concert with big football festivals that gather 1000 people 20-30 times a year, letting local communities meet each other on and off the pitch.
In addition to girls clubs, Play31 also arranges other events. For example Copenhagen World Cup (also known as the World Championships of Street Football), Diplomatch in New York, and a yearly Christiansborg Cup, pitting Danish politicians against each ot
Source: Play31
Other categories
Before the Ebola epidemic struck Sierra Leone, more than 1000 local people used to gather every year for the 20-30 annual football festivals conducted by the organisation Play31.
The festivals were not just for fun; they were ways for local people to gather, socialise, dine together, and reconcile after the country's civil war. All this was interrupted when the deadly disease Ebola appeared, but now it is once again safe to gather. Hundreds of people showed up at the first workshop in their local community since the outbreak.
This is also good news for the hundreds of young girls that now once more get the chance to participate in the Play31 'Girls Peace Clubs'. These clubs, conducted by the organisation's local employee Huratu George, provide a safe space for the girls, where they can speak in confidence about their experiences and learn basic life skills, such as health care, hygiene, and contraception.
Huratu George has personal experience with the consequences of abuse, and she now dedicates her time to help other women. For example, she works to prevent forced marriages between young women and much older men.
Through dialogue with the girls and their parents, Huratu George argues that the girls must be given the choice of when and whom to marry. In several cases, her help has directly contributed to girls avoiding such forced marriages.
Real results
The girls clubs have had a tangible effect on the small communities. As a result of the work of Play31 and others, none of the participating young women have dropped out of school, or had involuntary pregnancies at a young age. There are also far fewer teenage pregnancies in the area as a whole, and the girls also gain essential knowledge about their human rights, including the right to protest against unfair treatment. For example, if teachers ask for sex in return for good grades, which is another of the problems that has been shared in the safe confines of the girls clubs.
"The girls have the opportunity to participate in sports activities for their health, and they now stand up for their rights, saying no to abuse. Because now, they know their rights, and what to do if someone tries to violate those rights", says Pel Koroma, country director for Play31 in Sierra Leone.
In the future, the young women will be able to pass on their knowledge about rights, health, and contraception to their own communities, where they will function as peace ambassadors.
Pel Koroma, Huratu George, and the other Play31 employees are working hard every day to foster teamwork among the various players in society, both on and off the football pitch. Though the civil war ended in 2002, there are still many wounds to heal. But the reconciliation work done through sports and workshops are good steps towards winning this challenge.
Related news