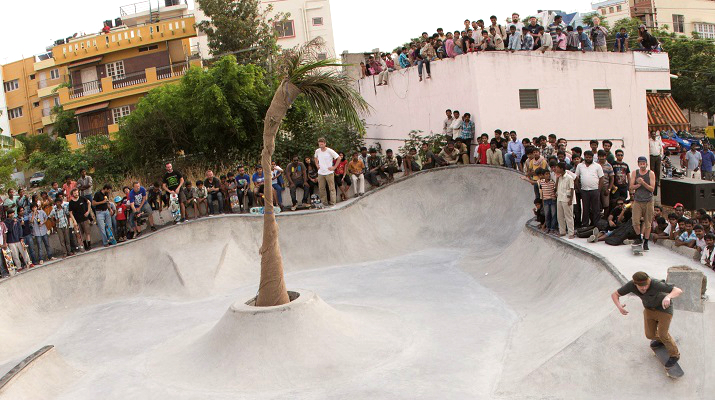 Skateparks give poor kids a break
A team of international skaters worked together to build India's first free and public skatepark. Now, they are teaching young people skills on both the skateboard and the blackboard, and this combination has spread to Bolivia and South Africa.
Share
Danish film-crew on the spot
Journalists, photographers and filmmakers have been on the road to promote skater culture in poor communities. Take a look at their stories from Bangalore, La Paz and Johannesburg.
Other categories
Rumbling trucks, roaming cows and honking tuk-tuks make skateboarding a risky pastime on the often potholed streets of India. Until recently, the whole country had only one single dedicated skatepark, providing a refuge where skateboarders could practice their tricks and hang out with friends, safe from the bustling chaos outside.
However, the relatively high entry fee of around 200 rupees (2.7 euros) meant that skateboarding was not a real option for kids from poor families.
Last year, a group of 24 professional skateboarders decided to change that. Coming together from India, USA, Great Britain and Germany, they joined a group of local volunteers to transform twenty tonnes of sand, three tonnes of cement, 2000 metres of steel – and a single palm tree – into the first public and free skatepark in Bangalore.
The best skatepark in Asia
Backed by Indian skater collective HolyStoked, '2er Skaterboarding' from Hamburg, and clothing company Levi's, the park they built is now recognised by Skateboard Magazine as one of the best places in Asia for skaters. Bangalore is slowly emerging as India's place to be for skaters, who flock to the park from very different neighbourhoods. Well educated young professionals come to unwind after long hours in the office, and at the park they meet street urchins from various caste levels in the Bangalore slum districts.
The Indian skateboarder organisation works to promote skateboard lifestyle in order to give children and youth a break from the daily grind, regardless of their background. A new skateboarding school provides 100 skateboards to use free of charge, and this has proved very popular with kids who often live in tents and work in construction sites with their families, when they are not in school.
"We give them a skateboard, and after 3-4 minutes there are smiles all over. It's something really special. It gives others a feeling that they, too, can do it", says Abshishek Enbake from the skater collective. While the children are learning to move on a skateboard, they also receive tuition in English. The concept has now been carried on to Bolivia and South Africa.
Skate-mecca with a mountain view
More than 110 volunteer skateboarders from 15 countries joined up to construct a 1,200 m2 skateboarding hotspot in La Paz, Bolivia. Located at 3,600 metres above sea level, it's not only one of the biggest destinations for skateboarders in South America, it's also the highest in the whole world.
Johannesburg already had an old area for skateboarding, but it had seen better times and steadily fell into misuse and ruin as locals were helping themselves to the steel and other materials from the ramps. Once again, volunteer skateboarders went out to teach young people in the area how to build ramps from cement and other materials that will last longer and be more difficult to carry off.
"Children in the area now have a rare and special place, where they can just have fun and enjoy skating", says local skater Jonathan Pinkhard, who is one of the users of the facility now ready to expand and maintain the ramps as they like.
Alternative marketing
Skateboard culture has developed steadily since the 1940's, when a couple of youngsters first came up with the idea of putting wheels on their old surfboards. Today, there are more than 10 million skaters around the world, and a whole industry has grown up around the subculture, worth hundreds of millions of dollars. Big clothing brands are eager for their share of the cake, and one of the common sales tricks is to pay celebrities to wear their skateboard collections.
Levi's is known as the creators of the classic blue jeans, and therefore chose another route on their way to the skateboard market.
"We came into this completely aware of the fact that we are NOT a skateboarding brand. We owe it to our own heritage, as well as to the skateboarding community, to acknowledge that fact. Rather than using our marketing dollars to pay 5-10 guys to endorse our product, we've decided to support skateboarding shops, communities and those who wouldn't otherwise have access to skateboarding", explains Filip Elerud, commercial manager of Levi's.
Check out three short documentaries about the skateparks in Bangalore, La Paz and Johannesburg
Related news